In this step by step guide, we will show you how to start a WordPress site.
You have chosen the right Domain Name for your site, you found the Hosting service that fits your needs, and now you have a fresh install of WordPress.
What's the next?
Don't panic, here are the most important things to do when starting a website with WordPress.
How to start a WordPress site
1Choose your WordPress Theme
WordPress comes with a default theme by the official WordPress.org team (one of the 'Twenty series' themes).
How to choose your WordPress theme? Depend on what kind of website you are building (blog, portfolio, business website, etc..)
Other thing to consider:
Know your budget
Search for simple and easy-to-use WordPress themes
The theme should be lightweight & fast, to enhance the performance and SEO of your website
Fully Responsive, to look amazing on every screen and device
Mind the code quality and standards recommended by WordPress.org
Look for customization options
2Install and activate your WordPress Theme
To change the default theme, go to the Appearance » Themes page, and click on the Add New button. Then you can browse the official repository to find a theme you like.
We craft beautiful and easy-to-use WordPress themes with performance, usability and SEO in mind: try our Free WordPress themes available from the official WordPress.org repository.
3Do consider buying a Premium Theme
According to your budget, you can opt for a Premium WordPress Theme.
Premium themes typically offer more features than free ones, including support in case you need help.
Go to the Appearance » Themes page, click on the Add New button, and then click on the Upload Theme button.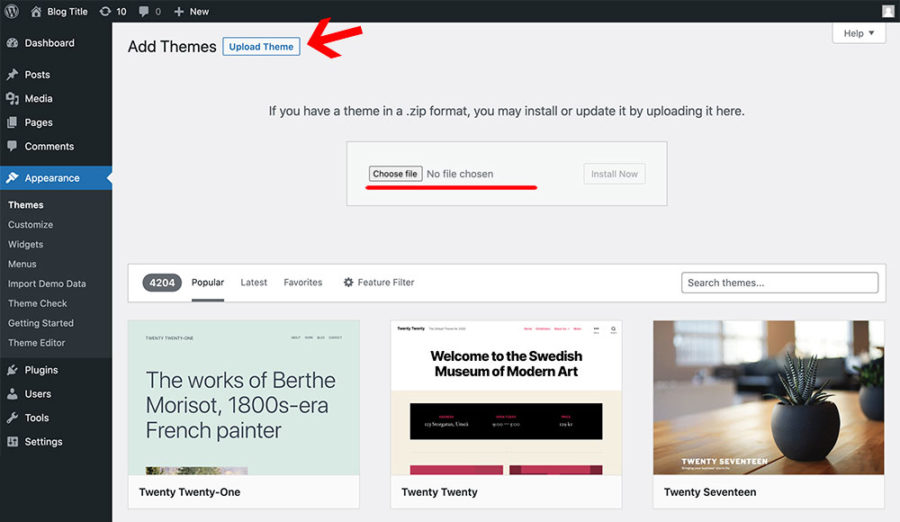 Select the .zip file from your computer and click "Install Now".
Check our Premium WordPress themes and create pixel-perfect pages using the new Gutenberg block editor.
4Change the WordPress Title and Tagline
Your title is the name of your site. It's how people identify your brand and how they search for you online. The tagline is a brief description of what your site is about, similar to an advertising slogan, usually placed below your title.
To change the site title and tagline, go to the Settings » General page.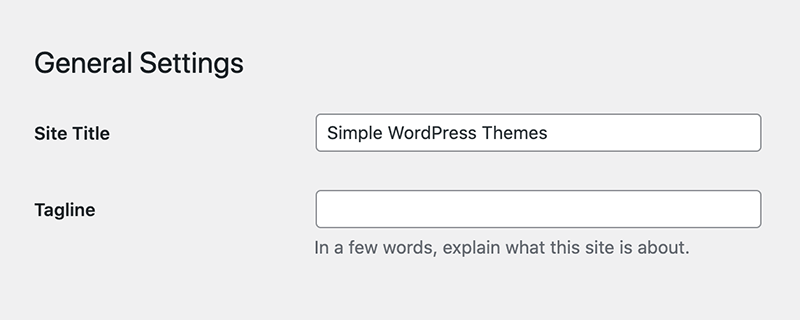 Mind the SEO impact of your title and tagline, you can use keywords to boost your search rankings.
Our Premium WordPress themes come with advanced typography options. You are able to customize the font of your Site title, and set the right tone for your site.
5Create Good Quality Content
Make sure you have, at the very least, 10 quality posts, but aim for around 30 ideally. By "quality", we mean 400 words or more of your own original content. Never copy content from elsewhere.
Keep your articles focused, grammatically correct, and spell-checked.
6Choose Great Images
Images will make or break the appearance of your site.
Poor image choice is the most common mistake we encounter in new websites.
If you plan to use images, don't cheap out: it will reflect poorly on your brand.
Otherwise, you can find on the web Free Photo Resources:
7Easily create your Color palette
Picking a color palette for your site can be difficult.
What colors do you choose?
How do you find colors that coordinate?
We build our WordPress themes to provide basic color changing options.
We have tried to keep the options minimal to reduce the risk of a color disaster!
Keep it simple with a Monochrome Color Palette. Set the right base color for your website. It can be the main color of your brand or product. Then create a color palette with a lighter and darker version of your base color.

8Make your WordPress site easy to read
Making great font choices is very important to the design, professionalism and above all else, the legibility of your site.
If you want people to read your content — make it easy for them.
Don't use more than three typefaces on your website.
Keep it simple with two fonts: Heading and body.